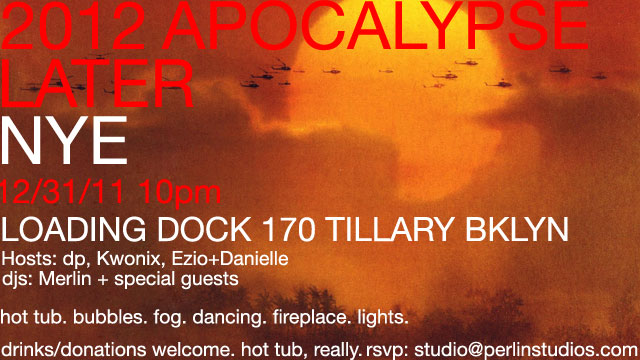 Our friend Daniel Perlin (a.k.a. N-Ron, but you'll soon know him as Merlin) is throwing a crazy end of year houseparty at a space in downtown Brooklyn – Please join us in celebrating the amazing year that was 2011 and the arrival of 2012! Help us push away the spirit of apocalypse… He's gone and invited the incredible Ripley, yrs truly, and some special guests. MORE details after Saul Williams, c. the year two thousand:
[youtube width="525″ height="25″]http://www.youtube.com/watch?v=oHatA0OgMD0[/youtube]
Saul Williams – Penny For A Thought
2012
APOCALYPSEÂ LATER
DECEMBER 31, 10 PM
170 TILLARY ST. BKLYN
LOADING DOCK
Join Hosts dp, kwonix, Ezio and Danielle in celebrating the time-shift from 2011 to the year 2012
with DJ's Merlin, Ripley, Lamin Fofana, + Special Guests.
1 night only, we are taking over The Loading Dock at 170 Tillary Street. This is a sacred space, to be treated with a proper party! To scare away the oncoming doom, we have everything, well, almost everything we need:
MUSIC– Be prepared to dance. Sounds from everywhere to make you move.
LIGHTS– The most fabulous light system ever. It moves to the beat. It has switches for on and off!
FOG– Yes. Fog. Even Kurtz could hide in our fog!
DRINK– We have some. Bring more!
BUBBLE MACHINE– 2012 in with style. Bubble style.
HOT TUB– What more do we have to say. We have a brand spankin new hot tub in the and indoor/outdoor space. Never leave the boat. But you should know how to swim.
What we need: YOU! and a guest.
Please RSVP. We want to make sure we have all the necessary powers in order for an amazing time.
Space is limited, though time is not…
We recommend a donation. you can also bring drinks. You can also do both!
Please be prepared to dance in 2012! Apocalypse Later will only work when the ritual is complete!
Thanks, we all look forward to hearing from you, seeing you and celebrating 2012 in fine style.
xo
dp and the crew!