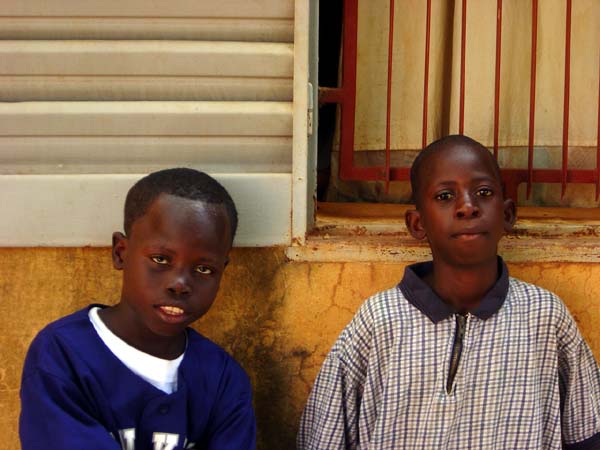 It must be a wonderful feeling to know that what you're doing grew out of something that is directly connected to your past, and to know that what you're doing is honoring your own history.  Diata Sya are descendants of the great warrior and founder of the Mali Empire Sundiata Keita, and they've been around since the early '90s under various aliases, making music addressing modern social problems in Bamako, while drawing inspiration from the past and thoroughly devoted to restoring/recovering African culture through music and activism.
"Saria" is included in the Akwaaba Music compilation Move it Chaleh! It's incredible.
The above picture is of MC Dree (on the left) and friend. MC Dree performed the first verse, and the lead vocal in the chorus.
[audio:http://nyc.duttyartz.com/mp3s/DiataSya-Saria.mp3]
Diata Sya – Saria
++++++
I've been coming across Recession Rap Jams faster than I can listen to them, or even post them.   Two bonus jams below, and the music is all over the place, from the south to the west to the motherfucking east © Filastine
[audio:http://nyc.duttyartz.com/mp3s/PDukesJosephLowery-MakeMeAWay.mp3]
P. Dukes f/ Joseph Lowery – Make Me A Way
props to BLVD ST
+++
[audio:http://nyc.duttyartz.com/mp3s/MickeyFactz-Sensibility.mp3]
Mickey Factz – Sensibility
props to Nah Right