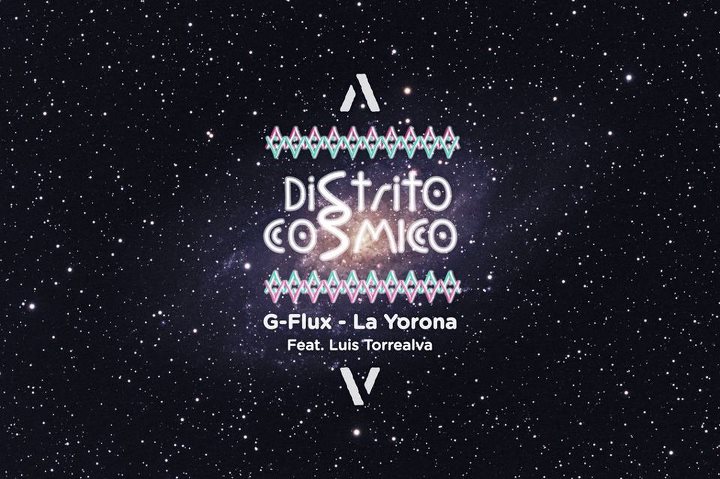 What are your stereotypes about Washington, DC? A place to go for protests? Full of suits and wonks? Epicenter of evil? Totally boring?
We residents of the District call bullshit. Sure, there is some truth to be found in those assumptions, but the reality is so much more than that. We're a place of people fighting on the front lines against gentrification and for social justice, a place with many stories of amazing music, dance and creative cultures. Not enough people talk about this. These aspects are lost not only on most people from elsewhere, but even on some in the area.
Thursday's release of 'Distrito Cósmico' hopefully will help change that. "It's a song inspired by the Maracuyeah community — music elevating and uniting people beyond the mundane in collective and collaborative experiences that celebrate culture, community and fun," says Lucy Pacheco AKA La Yorona, who wrote and sings this DC cumbia original (G-Flux composed the music and Luis Torrealva weighs in on chorus).
She's talking of course of local DJ and booking collective Maracuyeah! (in which I'm something of a sub-comandante to comandantes rAt and Mafe) which has been expanding the dance and party universe in our city for over a year. "Maracuyeah has a role as a creative forcefield in this release," says rAt, describing how she and Mafe helped the song come to fruition. The various players were all doing their own thing until they came together in Maracuyeah space. "La Yorona and G-Flux have been collaborators with us," says Mafe. "They met each other at a Maracuyeah gathering and decided to work together. We've been part of the process through creative input and media outreach and are very excited to present this new single."
Maracuyeah siempre sabrosa
Fiesta tropical — travesura
Fiesta tropical — baile duro
Fiesta tropical con mi gente nocturna
Says La Yorona:
"Synchronicity connected me with Mafe, rAt, G-Flux and Luis Torrealva and 'Distrito Cósmico' just seemed like a fitting representation of this collaborative representation of DC's tropicalismo. My approach to MCing is based on playfulness, fun and encouraging others to let loose and enjoy themselves, to notice the inspiring spaces and experiences we are all creating together. The song is a representation of playfulness; I love it. I love that it's DC artists meeting and creating together through music."
Global sonidos turnin' up the heat
Booty beats all up in the street
Cuz we takin' over like a tropical boom
Tropical monsoon, tropical typhoon
Maracuyeah, like sister collective Anthology of Booty and several other projects, is part of a new wave of music and party innovation that has a long history in our city. "We have created a space for collaboration of people interested in exploring alternative tropical sounds," says Mafe. "This single reflects the coming together of individuals who have been in the DC music scene for a while, collaborating with individuals who are newer to the scene."
At Maracuyeah's one year anniversary in April, the incredible local cumbia band Los Tribaldis played, along with Dutty Artz wunderkind Chief Boima plus rAt, Mafe and other local DJs. It represented the dual efforts of Maracuyeah — highlighting amazing DC talent as well as bringing folks to the city who otherwise wouldn't come here, like Chancha via Circuito, Zuzuka Poderosa or Pernett.
"We are excited about the vibrant community that keeps growing and mutating and producing exciting experiments like 'Distrito Cósmico,'" says rAt. "We are excited to see what comes next. I love to see creative people criss-crossing 'flavor lines' and expanding the concepts of self-interest and solidarity, in meaningful, long-lasting ways."
The download for 'Distrito Cósmico' will be available on Friday — the release party is Thursday night at Tropicalia on U Street. Birthed in transitional 2012, La Yorona says she's "gonna keep creating and collaborating and dancing." Same goes for Maracuyeah… and DC.