Hey the internet, I know it's been a while since we talked but I just wanted to let you know I still have feelings for you. Â I've been ducked down with my head stuck into creating this new online Logic Pro course for Dubspot which is kind of an epic project so I've been slacking on my blog game. Â I'll be back soon, promise. Â In the meantime instead of reading my internet words you can come and see me in real life at a variety of spots in NYC. Â First is this Friday January 14th at Twisup at Deity in Brooklyn. Â Twisup is Dave Q. of Dub War's new party. Â Apparently we're playing New Bass now, not Dubstep. Â I'm pretty comfortable with that designation. Â It's in downtown BK and in keeping with Dub War tradition I think it's safe to expect some serious womp for your ear holes.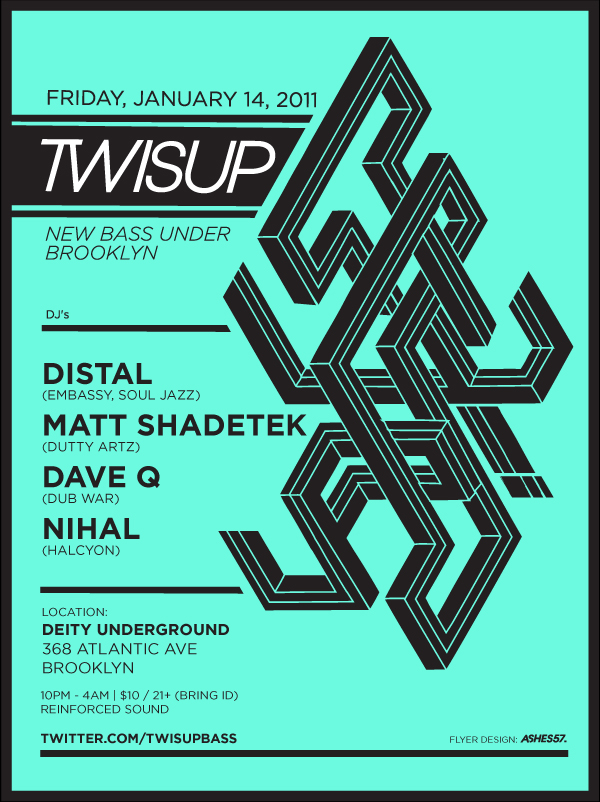 Next Tuesday the 18th I'll be talking along with Ricardo Moncado from Halcyon at Netmix a new meetup started by Corey H Maass aka Secret Agent Gel. Â I've known Corey for a LONG time here in NYC and recently reconnected with him in talking about some of the topics that I've been writing about lately. Â He asked me to come and talk about it and I'm happy to do so. Â It's billed as 'creative process in today's music industry' I think my talk will be more creative and less industry but who knows? Â All the info is here.
Immediately afterward I will be hightailing it over to DJ at DJ Still Life's one year anniversary for his Worldwide Smash radio show on East Village Radio (which I have appeared on). Â  The lineup is myself, Still Life, Jubilee, Shigeto, and JoJo Mayer. Â I just looked in my email and somehow don't have the venue info but you will be the FIRST to know (after me).
EDIT: Here's the info it's at Tammany Hall, (Formerly The Annex) which is at 152 Orchard St New York, NY 10013.
The following weekend on January 22nd I'll be at Kingdom and Dre Skull's Club Infinity party. Â These two are some of my favorite producers in NYC covering a lot of the styles I'm into ranging from dancehall to housey stuff and so I'm very excited to play this. Â I know that Tim Dolla is also playing and that Kingdom and Dre will play too,but little else. Â I'll add the flier here as soon as I get it.
Lastly, the following week I'll be playing with Dub Gabriel, Noble Society w/ Jahdan Blakkamoore and Subatomic Sound System at Littlefield on Saturday Jan. 29th. Â I think I'll be playing a bit more dancehall and dubwise for that. Â But who knows!? Â Anything could happen!
And of course, perhaps most excitingly the REVENGE OF THE SLOTH! Â We're restarting New York Tropical at The Cove on Friday, February 11th. Â I'm very excited about this one, it'll be the first time the family will play together in NYC in a good while. Â For all of you who have asked me about when we're going to do another New York Tropical, here is your answer. Â More crazily the party is FREEEEEEE.