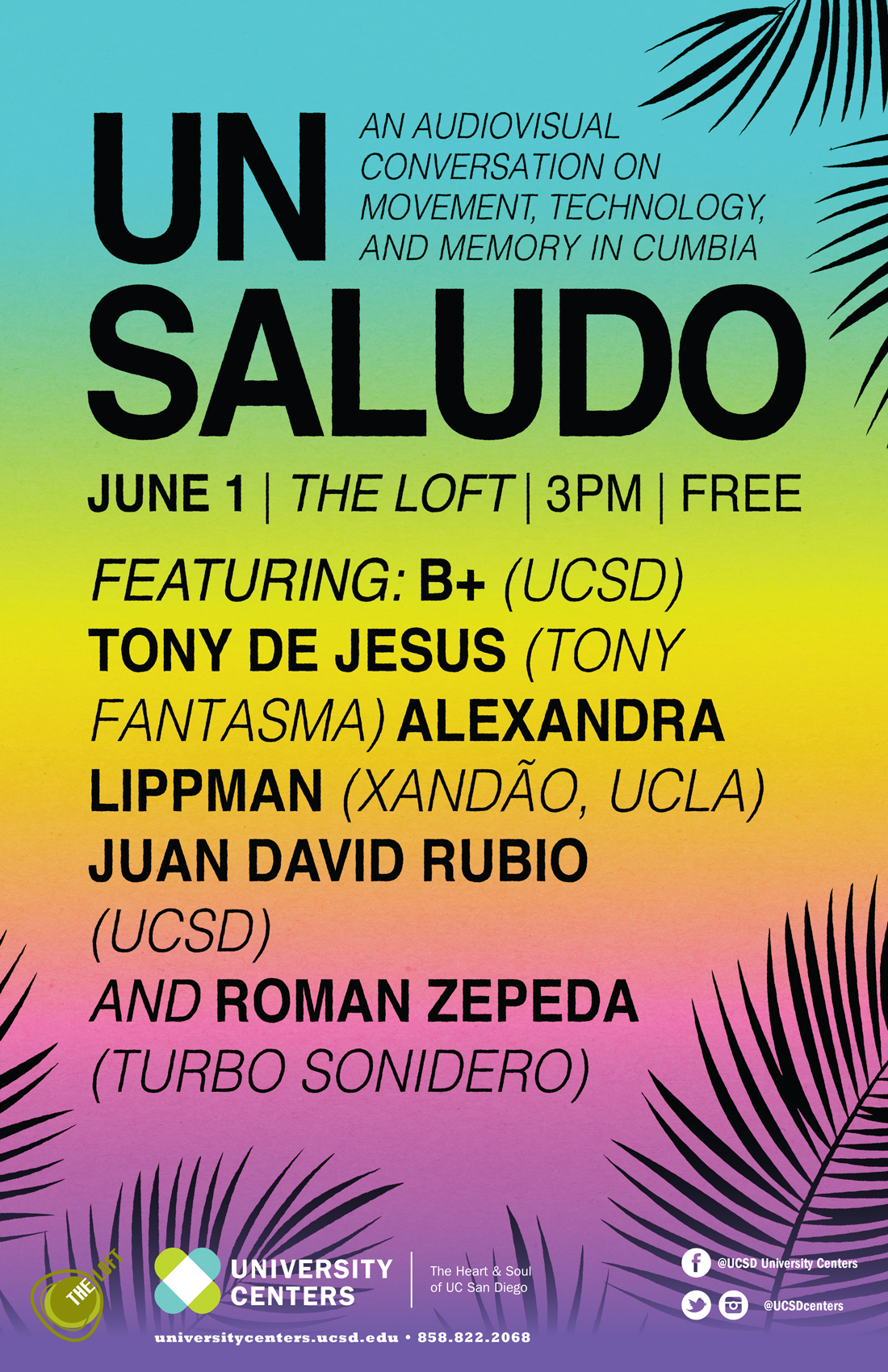 Cumbia sonidera is Mexico's bass-heavy, sound-system reinterpretation of music originally emanating from the Colombian northwest. During performances, the sonideros (DJs) mix songs and get on the mic to recite fans' dedications to people and places. These shout-outs (called saludos) trace an auditory archive of memory, migration, and longing across the US-Mexico border. This event will feature an audiovisual conversation using cumbia tracks, field recordings, and photographs to spark discussion on a music in movement, media materiality, and the interface of the visual and the sonic.
Featuring Brian "B+" Cross (UCSD), Sr. Tony (Sonido Fantasma), Juan David Rubio Restrepo (UCSD), and Roman Zepeda (Turbo Sonidero). Moderated by Alexandra Lippman (UCLA).
Friday, June 1 @ 3PM
UCSD Visual Arts, VisArts Performance Space (VAF 306)
Free and open to the public.
Free food provided by Zanzibar.
Stick around for el after con Very Be Careful, Tropa Mágica, Sonido Fantasma, and Turbo Sonidero.
RSVP | Tickets ($10 GA, Free for Students)
SPEAKERS
Brian "B+" Cross is an assistant professor in the Department of Visual Arts at the University of California San Diego and co-founder of Mochilla, a production house whose output includes feature length music documentaries, music videos, music and photography. A former student of award-winning author Mike Davis and photographer Allan Sekula, Cross was the photo editor of the music magazine Wax Poetics from 2004 to 2010, and Rappages from 1993 to 1998. He has worked in hip-hop culture as a photographer and filmmaker for over twenty years. Cross' 1993 book on the LA hip-hop scene, It's Not About a Salary, was on "best book of the year" lists for Rolling Stone and NME magazines, and Vibe named it one of the top ten hip-hop books of all time. His latest book, Ghostnotes: Music of the Unplayed, was published in 2017 by University of Texas Press.
Sr. Tony Sonido Fantasma is a prominent sonidero born in Puebla and based in Los Angeles. In his performances, he DJs cumbia while improvising saludos (shout-outs or dedications) from his fans to their absent loved-ones and family members. These saludos create an auditory archive of feelings of longing and love for families separated by the border. With 27 years of experience, Tony is renowned for his skillfulness on the microphone and for his powerful sound system.
Alexandra Lippman is an anthropologist, DJ, and postdoctoral scholar at UCLA with the Institute for Society and Genetics. Her research explores the politics of sound, cultural and intellectual property, and technology in Latin America, primarily Brazil. She produced and curated ¡Un Saludo! Mexican Soundsystem Cumbia in LA, a compilation which highlights how Discos Barba Azul, a small music shop and label in downtown LA, became a hub of border-crossing cumbia sonidera in the United States. She founded the Sound Ethnography Project and is a member of the artist collective and independent music label, Dutty Artz.
Juan David Rubio Restrepo is a PhD candidate in the Music Department at the University of California San Diego originally from Manizales, Colombia. He is a musician, composer, improviser, and researcher. He has presented on genealogies of popular music, decolonialism, time, and technological agency and teaches a popular course on cumbia.
Roman Zepeda (Turbo Sonidero) is a music producer hailing from San José, CA who blends Rap/Hip-Hop with Cumbia Sonidera. In 2010, he moved to his father's hometown in Puebla, Mexico to immerse in Cumbia Sonidera culture, where he played and toured extensively in the country. He is one half of Grupo Jejeje and a co-founder of Sonido Clash, a cultural arts collective exploring latinx art + sound. He has been featured in FADER, Afropop Worldwide, KQED, and XLR8R, among others.