[youtube]http://www.youtube.com/watch?v=xyAhRPh6ETA[/youtube]
Bee and I drive for hours from Jeppestown looking for Nozinja's house on the edge of Soweto. I'm using the GPS on her Blackberry- but keep fucking up and suddenly we've left the city behind and are driving for 20 minutes out into the countryside where sprawling townships blend in from afar with the yellow umber tall grass. The drive was supposed to take 45 minutes- but we arrive at dusk to his spot next to the rail tracks in a clean cut row of brick single story houses. A gleaming Benz sits in the dirt driveway and Nozinja, creator of the Shangaan Electro sound, is inside waiting for a BBC interviewer to call back. I apologize for being hours late- but he says it's fine and just makes fun of Bee for not knowing her way around Soweto. Shangaan Electro is the new marketing title for the wildly inventive update on Shangaani music that Nozinja has been making and selling throughout S. Africa for years.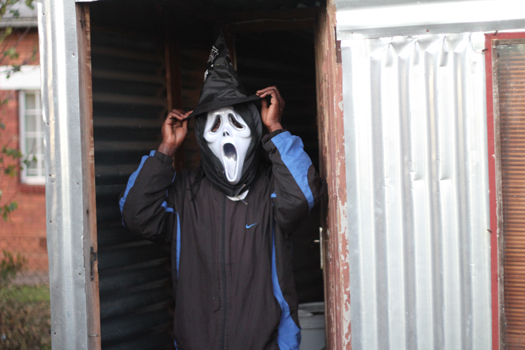 This is a classic untouched genre discovery story – weird computer music, hyperspeed dancing, clown costumes, youtube, serendipitous ringtones, cancelled return trips home from South Africa- but the music is mindblowing– and more so for all seemingly coming from the mind of one man. Nozinja gives me one of the his early releases from Tiyiselani Vomaseve- a group produced by Nozinja consisting of five women who dance and one who sings. The CD is hand screen-printed and comes off a spindle from his distribution/storage cupboards in the kitchen- it is hard to get all the way through, the midi music is relentless and exhausting for the uninitiated- but the rest of the Shangaani music that has been coming out via Honest Jon's has been addictively listenable. After killer coverage of those releases, including a massive summer tour, Nozinja is set to start releasing his own music digitally to the world via his eponymous label. The first two releases are availble now from Tiyiselani Vomaseve (itunes) and the Tshetsha Boys, whose album is straight forwardly titled "YouTube Top Hits" (itunes).
Stream a couple cuts from the Tiyiselani album below.
Tiyiselani Vomaseve – Bombani
[audio: http://nyc.duttyartz.com/mp3s/Bombani.mp3]
Tiyiselani Vomaseve – Voseveni
[audio: http://nyc.duttyartz.com/mp3s/Voseveni.mp3 ]
If you want to keep up on Nozinja and his label- you can follow them on Facebook until their website gets finished.
More Photos and Tour Dates After the Jump.
Nozinja is on tour in Europe right now with the Tshetsha Boys (early reviews from the first couple dates say they are killing it so dont sleep)…. check the dates below.
Wed 22 LYON, GRND ZERO
Thu 23 TOULOUSE, LES SIESTES ELECTRONIQUES
Fri 24 PARIS, POINT EPHEMERE
Sat 25 LONDON, BLAZE FESTIVAL @ RICH MIX
Sun 26 MANCHESTER, ISLINGTON MILL
Tue 28 BRUSSELS, LES ATELIERS CLAUS
Wed 29 ROTTERDAM, WORM @ HEIDEGGER
Thu 30 BERLIN, BERGHAIN
JULY
Fri 1 ROSKILDE, ROSKILDE FESTIVAL
Sun 3 LISBON, GULBENKIAN FOUNDATION