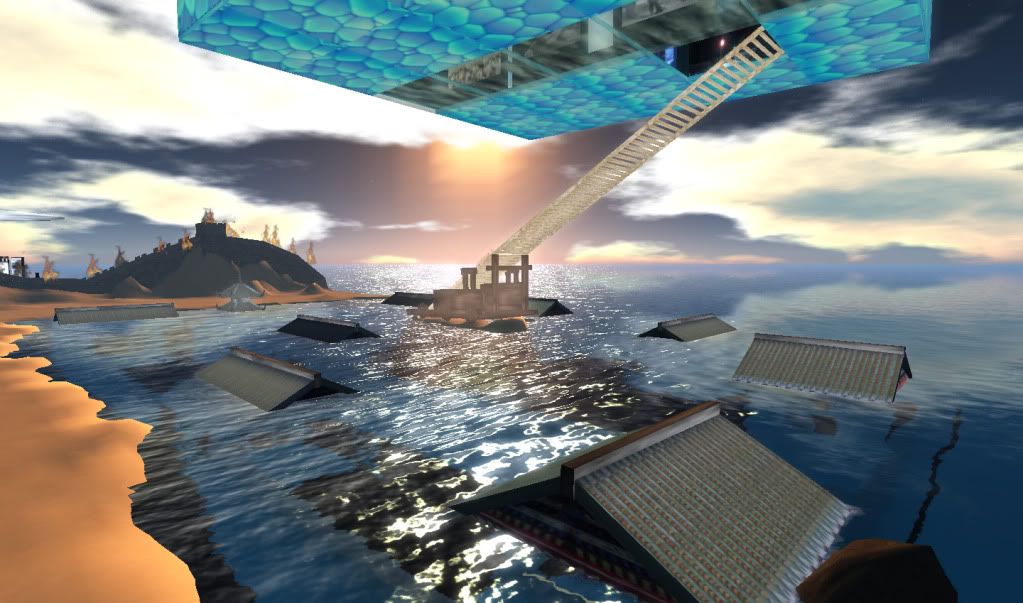 Unrelated Submerged Second Life Picture- but watch for an amazing video coming soon from Sara Taigher
Solar Life Raft- the mix that keeps on giving- has finally made its way to your local record stores. /rupture and Shadetek working together is a serious Voltron force. It's safe to say that I have listened to SLR over a hundred times since it was recorded- and I'm still finding reasons to go back. Opening with Time-Blind's abstract tone poetry and closing with a gorgeous re-work from /rupture and Shadetek of Telepathe, it's easy to miss all the ground the mix has covered.
Tracklists are the weird anathema of the DJ Mix- always reminding us as producers and consumers that for some reason the sounds cant just stand alone. A tracklist can mark a DJ's access to dub-plates and exclusives or their prodigal digging- but always the tracklist serves as a sort of roadmap for listeners that want to go beyond the mix and gain some traction in it. Often I'll look to a track list before deciding whether or not to listen to a given mix. Or I will return to the tracklist after hearing something amazing that I want to be up on.
SLR stands alone without the tracklist- and the hype that goes along with it- people read the tracklist and think, "Wow, this sure is eclectic"- but it's not grab bag by any means- its laser precision etched in bass. It is hard to believe after listening to SLR that you've just digested sounds as seemingly diverse as Cardopusher, Paavoharju, and Luc Ferrari. One you get used to these sorts of mixes- where genre-orthodoxy and rigid notions of sonic-geographies are left behind- it gets pretty fucking hard to go back to an hour of any BPM mixed seamlessly at the start of 8, 16 and 32 bar phrases and movements.
/rupture and Shadetek can really cook in the lab. I've always rated Matt for his back-from-the-crossroads skills in Logic. I mean- from what I know- he was the first stateside producer to actually be doing production for grime dudes in London. /rupture on the other hand has always been off in a zone that seemed far more experimental- where quantization was frowned upon and standard timing or track development was laughed out the door. Through the last few years they seem to have tempered each others workflows and styles in all the right ways- and SLR should be an announcement that these two can make tracks with the very best of them. The album is almost a third original production and its the home grown tracks that really provided the convincing narrative that holds the mix together.
Effusive praise can ring hallow coming from ones own crew- but I'm not just trying to ramp up sales- Solar Life Raft is remarkable. Do whatever your ethical radar tells you in regard to consuming music and somehow, someway, find yourself a copy. If that happens to be amazon, boomkat, itunes, or beatport….just think of it as investing in more music.
[audio:http://nyc.duttyartz.com/leaky/MattShadetek-Strength_In_Numbers-SOLAR-LIFE-RAFT.mp3]
Matt Shadetek – Strength In Numbers
[audio:http://secretgooglecheatcodes.com/GGD-Bebey-DJ_Rupture+MattShadetek_RMX.mp3]
Gang Gang Dance – Bebey (DJ /rupture and Matt Shadetek Remix)